Shadow work journaling prompts shift your perspective and spark your imagination by inviting you to reflect on who you are.
People are often fearful about this process because they immediately associate the term shadow with something wrong or evil.
The shadow is not evil, so there's nothing to fear.
What is The Shadow?
Let's go deeper into the psychological definition and a more spiritual one.
From a psychological perspective, the shadow and shadow work are terms first brought to the western world by psychologist Carl Jung.
Carl Jung describes the shadow as the unconscious part of your personality or disowned part of your personality.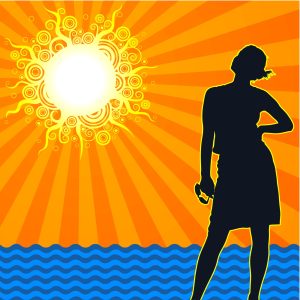 Think of the shadow created when walking down the street on a sunny day.
When you're walking down the street, you're not paying attention to your shadow as it is cast on the ground; you keep walking down the street.
This lack of attention or awareness attention of your shadow is the unconscious part of your personality.
"Your shadow is born during your childhood as a byproduct of the interactions you have with your family and your environment."
Your parents project their beliefs and their understanding of the world onto you, and that's where the shadow is born.
The shadow is not just something that exists in your psyche; it is multifaceted from a spiritual perspective.
Parts of the shadow can exist outside of the mind.
This is important because if you're trying to heal from only your mind, you leave a very important piece unresolved.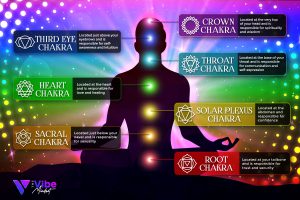 Chakras are an important part of this unresolved piece I'll dive a bit deeper into now.
Each of your seven chakras act sort of like a mini-brain.
Each possesses its own consciousness enabling each to "think for itself." 
A sensitive child reprimanded and ridiculed for crying will energetically shut down his heart chakra in response to being reprimanded for being sensitive.
The shadow is not just in his thoughts, the shadow also exists in his chakras.
He shuts down his heart chakra because that's where sensitivity, love, and compassion live.
This is an example of how the shadow operates in a multi-faceted way.
What is Shadow Work?
The shadow self is an unconscious part of the self that we have repressed since childhood to be accepted and loved.
This part of us carries our suppressed emotions because we were told they are nasty or wrong.
The behaviors, thoughts, and beliefs that were unacceptable to those whose love we desired most.
"As children, we just needed love for survival quite literally so doing anything we could to get love was most important."
Doing the work can elicit a roller coaster of emotions, such as fear, happiness, sorrow, and enlightenment.
Choose to experience these emotions without identifying with them.
"I'm feeling nervous" is a healthy and normal way of expressing your emotional state.
"I am nervous" is identifying with emotion and doesn't serve you as well.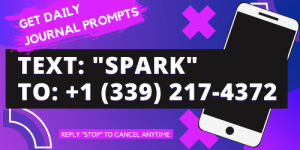 Shadow work is a powerful way to gain self-awareness, personal growth, and emotional self-regulation.
It can lead to better relationships with others as well as yourself.
During this process, it's important for you to realize you did nothing wrong.
You responded the way any other child in the same situation would have.
How Do I Find and Face My Shadow Self?
Let's start off with an example of a shadow self to help you better understand where you're looking to go with this work.
Imagine a young boy who begins to cry because he is sensitive.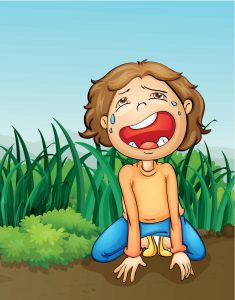 His parents hear him and respond to him with, "You cry like a girl." 
As his parents projected their beliefs surrounding the act of crying onto him, he doesn't feel accepted by them.
The child learned how to repress his sensitivities, and this is when his shadow was born, according to Carl Jung.
This shadow will grow and become a more ingrained part of who this boy becomes emotionally as this experience is repeated.
Let's move into how to find your shadow.
Finding your shadow self does take some work.
It's important for you to understand that shadow work for some can reveal deep traumas from our past.
"It may be best to seek some help. If you feel you need help, reach out to a mental health professional who specializes in shadow work."
Consider managing your narrative surrounding shadow work.
Instead of using terms such as the "negative" or "positive" aspects of yourself, I invite you to frame this as your unique set of life experiences.
"Some of the worst experiences from my past fueled some of the greatest experiences I would enjoy years later."
Different practices and processes can lead to you unearthing the unconscious mind.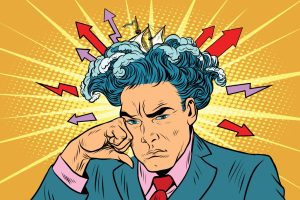 Making the unconscious become conscious is at the core of finding your shadow self.
Many people who find their shadow self start with visualizations and journaling.
Reflect back on their past and reimage events or experiences that were emotionally charged.
Starting a shadow work journal is also a powerful way to get started and is most popular for beginners.
4 Ways to Do Shadow Work
Here's how to do shadow work in four steps.
1. Projections
Start to pay attention to how you project yourself into the outside world.
This is your shadow actively reacting to the environment.
How you see others and what you don't like about others may be a projection of your inner shadow.
This is because what's inside of you can bother you when noticed in the outside world.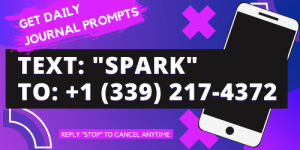 2. Emotional Triggers
Words, events, or situations that cause you to quickly and almost uncontrollably react.
Imagine a person states a specific word to you that immediately causes you to feel angry.
This is the shadow-self being revealed.
To reveal the shadow, ask yourself, "Why am I feeling this way?"
Perhaps you were called names as a child, and you react more strongly to these words than expected.
3. Repetitive Patterns
Look for patterns in your life and your relationships.
"Do you tend to play the role of the victim in specific relationships?"
"Do you let people take advantage of you in relationships at work?"
Look at some times in your life when things didn't go how you would have liked them to.
Can you notice a common theme amongst all of these experiences?
This process can reveal some very powerful insights into your shadow self.
4. Introspection
Ask yourself powerful questions to invite you to look into what makes you tick.
Shadow work prompts invite you to take a look within yourself.
This may be one of the most challenging steps, but it is also one of the most powerful.
Use Shadow Work Journaling Prompts to Begin Healing the Inner Child
Let prompts inspire you to become more curious about how you think, feel, and act. 
Keep in mind some of these steps might reveal more than others; however none of these steps should be a one-time event.
"This is a continuous journey of self-discovery and self-reflection that should never end."
View this as an opportunity throughout your entire life to gain more control over the way you interact with the outer world by better managing and understanding your inner world. 
The more you shine a light on your shadow, the smaller your shadow gets!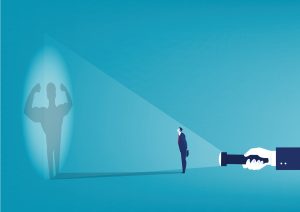 Don't antagonize your shadow, as this adds more non-acceptance; express self-acceptance of your shadow.
Complete self-acceptance of everything you are, including your shadow, because the shadow is part of you.
When you spot your shadow, love it, accept it, and bring it closer to you.
Observation of your shadow without judgment is key.
"One of the biggest mistakes you can make is to start judging the shadow because if you judge the shadow, you let that inner critic in."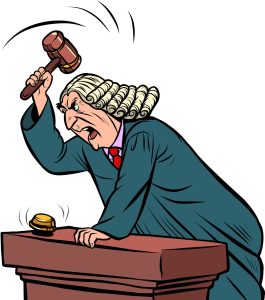 This adds fuel to the fire and you're only making your shadow bigger and you're not doing the integration work.
Integration work has to do with love and self-acceptance.
Judgment from your inner critic is a form of non-acceptance, which is why you want to observe free of judgment.
"Keep in mind, 80% of shadow work is to become aware of your shadow self."
Don't worry so much about trying to fix something you assume is broken.
Oftentimes self-awareness gives you that extra time and moment to think before you react and allows you to better respond to situations in your life.
This is a very powerful way to manage better the way you live your life.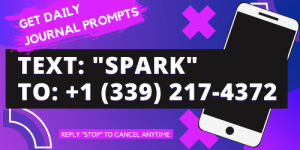 Shadow Work Journaling Defined
One of the most potent ways to start with Shadow work is to start writing.
Revealing things about yourself might at first be hard to deal with. 
When you start your journaling process, avoid beating yourself up and focus on being compassionate and understanding, regardless of what is revealed.
The goal of this journaling will be to reveal opportunities for you that can ultimately help you and enrich your life.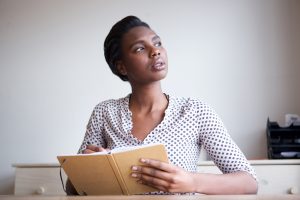 Everything that you find out about yourself deserves love and understanding.
When you start to feel uncomfortable, choose to view this as you knocking at the door of self-exploration and self-growth.
Your pen and paper are simply a tool to develop a better understanding of yourself.
When you start writing, trust yourself, let go, and allow your unconscious to speak through you.
Start with a very automated writing style free of thought.
Ask yourself some questions we will provide in the next section, and write down the first thing that comes to mind.
Allow these thoughts to flow freely without judgment or immediate analysis.
The goal for beginning your shadow work journal is to write what comes to mind.
You can ponder what it all means and dive deeper as a separate stage of your shadow work.
What should you write about?
Shadow work prompts help get your mind focused in the right direction.
The journal prompts below will help you get started.
Shadow Work Journal Prompts
These prompts invite you to raise your self-awareness, shift your perspective, and let go of your emotional attachments of the past.
You'll find prompts for healing, prompts for trauma, and some prompts for relationships as well.
Here is a list of shadow work prompts to get you started
What's one thing you could say to yourself to start the process of forcing yourself?

Say the following words aloud in a mirror and write down how you reacted. "I didn't do anything wrong."

Did those around me entirely accept me as a child?

What was expected of me by my parents as a child?

What behaviors and emotions were judged by my parents?

What's your intention in bringing light into your shadow?

What changes do you wish to experience as you shine a light on your shadow self?

If I weren't afraid, what would I do with my life?

How do you think people see you?

What words trigger you?

Is there a pattern in the way you judge others?

Is there a pattern in how you judge yourself?

What do you resist most in accepting yourself and your past?

What about your future frightens you most?

What's the biggest misconception people have about you?

Which emotion tends to get you into trouble most often?

Question three truths about yourself that may, in fact, be false truths.

How did your mom comfort you as a child?

How did your father comfort you as a child?

Which trait do you possess that you wish you didn't?

What do you admire most about your dad?

What do you admire most about your mom?

Which emotion tends to get you in trouble most often?

What was your childhood like?

Was there an emotionally charged experience you hold onto as a child?

What does self-love mean to you?

What does self-acceptance mean to you?

What would accepting your past without being ok with it look like for you?

In the last week, what did you react most strongly to?

What words tend to trigger undesirable emotions within you?

What makes you feel unsafe?

What's one fear you possess which may be just an illusion?

What tends to be the reason you struggle in relationships?

When was the last time you forgave yourself?

What in the last week could you forgive yourself for?

What makes you feel rejected?

What does your inner critic say most often about you?

Is your inner critic being fair in its judgment of you?

Is your inner critic your voice or the voice of someone else?

How can you be more kind to yourself?

Would you ever say the things you say to yourself to a close friend or loved one?

What is your biggest regret?

What can you learn about yourself to avoid a similar regret in the future?

How do others describe you?

How would you like others to describe you?

When you describe others, what qualities do you view as most important?

Do you ever self-sabotage? If so, describe this in detail.
What's the #1 reason you are deserving of self-forgiveness?
What do you wish you could change about the people closest to you?
How can you gain closure from the pain of your past?
What's one thing you should focus on letting go of?

What is your perspective on mistakes and failures?

What stories surrounding relationships do you tend to tell yourself?

What stories about yourself do you replay most often?

Who are you? (I saved the big one for last. lol)
Want some general journaling prompts sent to you via text to inspire you daily?
See our home page for more details.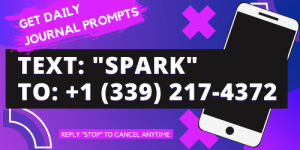 The Benefits of Shadow Work Journaling
Your shadow contains both positive and negative qualities, and revealing insights surrounding both have benefits to your personal growth.
It contains so much untapped potential you have yet to discover and unearth.
Writing in your journal is a powerful and deep way to venture down this path of self-discovery.
It's also a very powerful way to face your fears.
Fear is interesting because it's often an illusion based on our perspective or belief regarding a certain topic or situation.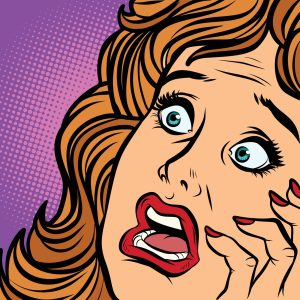 Shadow work challenges you to face your fears and to dissolve them.
"Through this process, you develop a stronger ability to face and overcome all fears in your life even outside of this work."
Breaking free from the illusion of fear invites you to experience more, take chances, and become who you are truly destined to be.
Your shadow operates outside your conscious awareness in the form of unconscious beliefs and can profoundly affect your thoughts, feelings, behavior, and decision-making.
Many of us are triggered by specific words or reminders that caused us to have an undesirable response.
Through the process of shadow work journaling, we start to recognize the triggers that cause an unconscious response.
When we recognize these patterns, we are empowered to learn how to respond better to the triggers in our environment.
This is a powerful way to improve our emotional intelligence and manage our emotions better. 

These insights gained through journaling can help us identify ways to improve our relationships with others and ourselves.
Think of shadow work like a mechanic becoming educated on how an automobile runs and works.
"Discovering your shadow-self allows you to learn more about how your mind and body operate."
The more you understand the "why" behind what you do, the more you can begin to change the reasons behind it. 
Shadow Work Prompts for Beginners
Ask yourself these three common shadow work questions to start your shadow work journaling.
What aspects of myself do I dislike?
What parts of myself do I judge?
What parts of myself do I fear?
Be patient, as these may be questions you've never asked yourself in 30, 40, or 60 years.
If a question seems difficult, then consider answering a different one.
Some questions are best answered when it's the right time.
"Simply having these questions in the back of your mind throughout the day allows you to at least have them on your radar to see if some responses reveal themselves."
The key to this and any process is to get started.
Perfection and life-changing experiences on day one should not be your expectation.
Set no expectations other than to have the desire to learn more about yourself and your shadow. 
When we deny or suppress something, it doesn't disappear it fades from our conscious awareness.
This is why we do so many things in life that we don't understand and often feel a lack of control over our actions.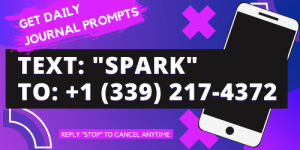 What To Do Next
Radical self-love is the goal here.
This very radical form of self-love doesn't come easy.
You'll find out things about yourself that you may not at first accept or not like.
Love yourself regardless.
Self-love and self-compassion are key that will unlock the door to gaining insights into your past.
Shadow work is the highest level of light work you can do!
Wondering what to do after you journal?
We recommend understanding how to build better habits using the tools offered at our sister site, thevibemindset.com
Our tools there allow you to take the spark you ignited and add fuel to keep it going.
Don't forget to text "spark" to +1 (339) 217 4372 to get daily journaling prompts daily.

Latest posts by Dr. Jay Cavanaugh
(see all)